About Us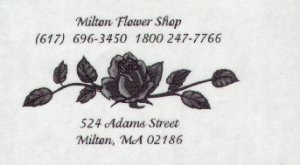 Milton Flower Shop, Inc. is your full service flower shop specializing in floral arrangements. All of our flowers are fresh and with over 60 years of experience, we can take care of all your floral needs.
Roses are our specialty! We carry all types of roses in all colors. Our elegant arrangements are artfully designed with special care. We can design custom arrangements for you and we have a large selection of vases, baskets and much more.
Take advantage of our services for weddings, anniversaries and funerals. Whatever the occasion, our staff of design professionals can assist you in sending the perfect message.
We service all residential areas as well as local schools, business, hospitals, nursing homes and funeral homes. We have daily delivery to Milton Hospital, Milton Medical Laboratory, New England Medical Center, Massachusetts General Hospital, Beth Israel Hospital, Boston Medical Center, Carney Hospital, Brigham & Women's Hospital, Children's Hospital and Massachusetts Eye & Ear Infirmary.
Local funeral home deliveries include John G. Molloy Funeral Home, Alfred D. Thomas Funeral Home, Chapman, and Cole & Gleason Funeral Home.
Our shop is open daily 9:00 am to 6:00 pm Monday through Saturday and by appointment only on Sunday. We invite you to stop in our store and get a few ideas for your next floral occasion.